Music's Long Tail
DOES IT STILL HAVE ONE?
Posted 06/13/2014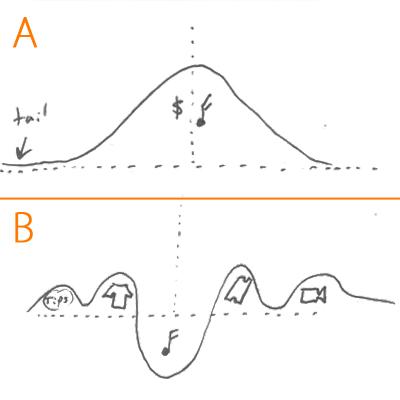 If the sale of music is no longer the tentpole to a pretty bell curve, should we still be referring to alternative revenue streams as long-tail? The long tail is derided as scraps, more trouble than it's worth. I still hear this frequently when representing
Tunes Alive
at media events, among tech peers, and to potential investors. Hanging out with actual musicians though, you quickly get the sense that
everyone
is doing what they can to make money in any way they can. For artists, just keeping it music-related can be a real win. Even the most successful and best-represented among them are earning most of their money from a combination of performance, merchandise, endorsements, placement, etc.
The industry I know looks more like exhibit B. The music itself is a loss-leader; the creative heart of the endeavor is almost an economic afterthought.
Or any media for that matter